Lake Edge Clubhouse
Inception 2005
Status  :  Completed 2006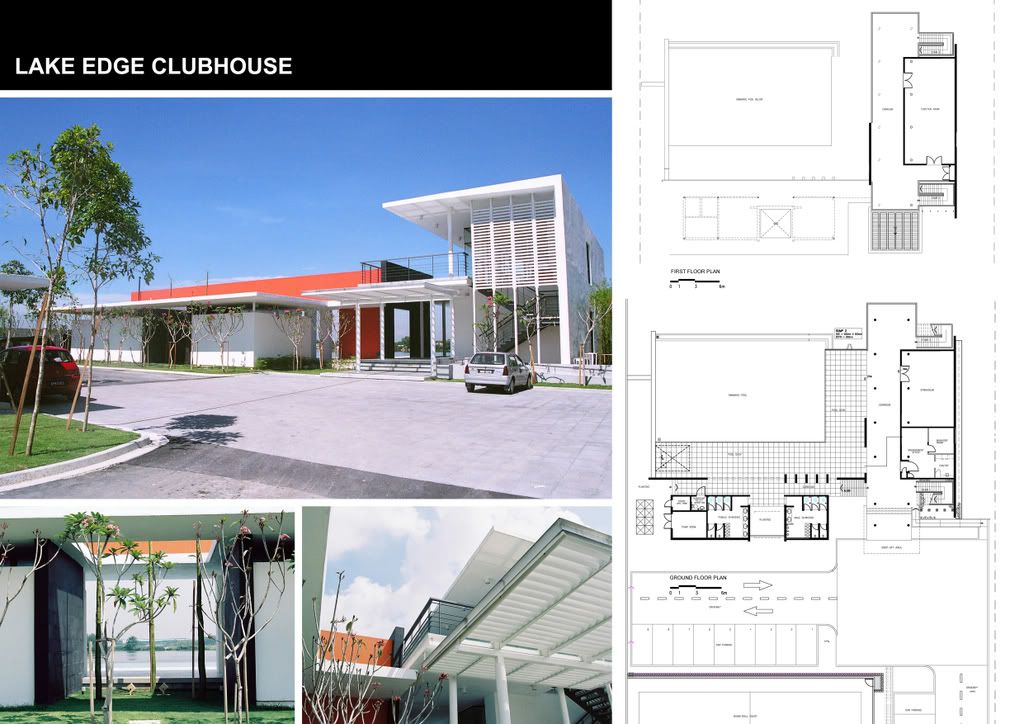 The Lake Edge clubhouse received the PAM Awards 2006 (Mentioned) under the Hotels and Recreational Building category.
When working in a site with a potentially great view, extra care has to be taken to enhance, rather than spoil the existing scenery. In this circumstance, a simple gesture would speak volumes.The clubhouse is a minimalistic building that sits at the edge of a lake. Its simple architecture of simple planes and slender lines avoids marring the lake with an otherwise bulky structure. At first glance the clubhouse looks like a boat house, instantly making the structure at home with the body of water next to it.
The clubhouse consists of one double storey block and a single storey block, built at right angles to each other. A blue-tiled infinity swimming pool lies at the centre, extended out to the edge as if to merge with the lake beyond.
The single storey portion houses the changing rooms and pump rooms. The flat roof is offset from the walls to allow for ventilation. A small garden separates the male from the female. An L-shaped plane makes up the main wall and the roof of the double-storey block. Spaces like the gymnasium and management office on the ground floor and the function room on the first are enclosed by glass walls to maximize lakeview. Corridors run the length of the building, and at one end cantilevered to function as some sort of a viewing platform. Both blocks are unified by orange and black wall planes.
Even the trees in the landscape are chosen to relate to the whole composition. Trees with slender trunks repeat the slender lines of tubular steel columns of the buildings.